While out with friends recently, I made a few suggestions on things they HAD to experience at a particular restaurant. It reminded me of a few texts exchanges I've had where friends ask, 'Where should I go for a great dessert?' or, 'What was that one dish you said I should try here?'. So, in the spirit of the year-end round-up I'll share a few of my favorite foodie things.
As you'll quickly discover, I love gluten…and dairy…and meat. So this is by no means a list for those starting off on a health kick in 2014
BREAKFAST
Croissant @ Janjou Patisserie (aka best damn croissant you'll ever have)
Oatmeal Souffle @ Red Feather (will make you rethink your relationship with oatmeal)
Vanilla Latte @ Flying M (a personal obsession from a latte addict)
Main Auction Cafe @ Main St. Auction, Steak Ranchero @ Los Betos (aka best hangover or diner fix breakfast)
(Any) Grilled Cheese Sandwich @ Bleubird (aka nirvana for cheese freaks)
Sage Grilled Cheese @ The Dish (Sage + prosciutto + cheese? Um, yes please!)
Mac n' Cheese or Gnocchi @ The Modern Bar (it's totally mood-dependent)
 
MEATY MEAT 
Carne Asada @ Campos Market
Gyro @ Bosnia Market
Empanadas @ Tango's
Any fresh fish @ Reel Foods Fish Market (yes, I know it may not be technically 'meat', but Proteiny Protein sounded weird. Love the vibe, offerings and insights of my local fish monger!)
Patio Paella @ The Basque Market (every Wednesday/Friday @ Noon & Thursday nights)
Ramen @ Yoi Tomo (not on the menu, but there for the ordering)
Poutine @ Bittercreek (thanks Canada for this gluttonous insanity)
Croquetas @ Bar Gernika (must experience with Tiger Sauce)
Lasagna @ Cucina di Paolo (they will make it right into your own dish if you like, so you can totally claim credit for the deliciousness :))
Garganelli or Pappardelle @ Alavita (meat + homemade pasta = my happy place)
BOOZE: 
The Layover @ The Modern Bar  (not on the menu, but there for the ordering. Only around in the winter!)
Kalimoxos @ Bar Gernika (coke + red wine. I know it's blasphemous to oenophiles, but it's so delicious!)
Wine @ Bodovino (perfect for the indecisive and adventurous)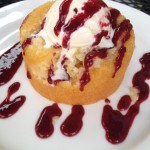 DESSERTS:  
Butter Cake @ Fork (I'm not a cake fan, but I will fight you for that last bite of Butter Cake)
Beignets @ Red Feather (I never find them on the menu, but have had luck ordering at weekend brunches & dinner)
Vanilla Budino @ Alavita (custard & caramel lusciousness)
Sticky Toffee Pudding Cake @ Fresh Off the Hook (don't be turned off by the chopped dates description. It is gooey amazing)
Fuel for the Soul: A true foodie experience in the home kitchen of Chef Tizi & her husband Joel. Classes in Italian and Thai are offered for small groups. Here's a post about one of my experiences.)
The Basque Market: From paella to tapas classes, pairings and tastings galore – The Basque Market offers a wide variety of experiences for the foodie interested in all things delicious from the Iberian Peninsula. If you haven't yet, sign up for one of the monthly Sheepherder's Breakfasts!)
The House of Wine: Curated and taught by wine educator Kat House, the classes offer deep – but approachable – dives into all things wine. And all things that go with wine (like cheese!) A fun evening experience in an urban chic winery setting just outside of Downtown Boise.
So, which one of your favorites did I miss?